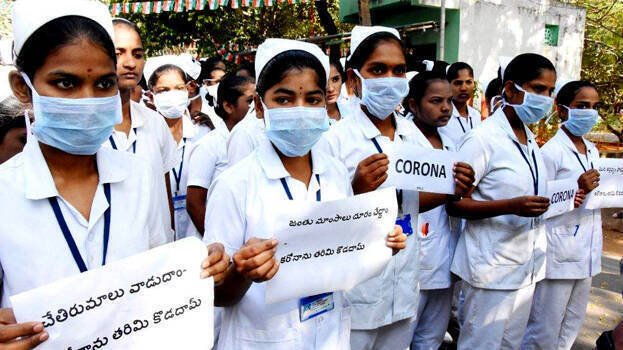 MANGALURU: In the wake of three cases of coronavirus confirmed in Kerala, inspections have been intensified in the state's borders. Special examination by authorities of the Karnataka health department at the Muthanga check-post on the Kerala-Karnataka border continued today. Awareness notices are being distributed. Inspections are underway at Moolahalla check-post and Bandipur check-post on the Tamil Nadu border. The inspection are being held at the Kerala border check-posts in southern Kannada, Kodagu, Chamaraj Nagar and Mysuru districts from Tuesday.
The health team advised that those who have fever or any other symptoms to seek treatment at the nearest hospital. Special isolation wards have been set up in hospital including Gundalpet Government Hospital. Karnataka health department said that no suspected case has been reported so far. 63 people coming from countries affected with the virus have been identified and of these 58 are under surveillance.
Coronavirus declared as state disaster in Kerala after three tested positive of the virus. The act is based on the possibility of virus spreading to all districts. The decision was taken at the state disaster management authority apex committee meet convened by Chief Secretary Tom Jose.
The virus was confirmed on three medical students from Kerala studying in Wuhan University in China. The three are colleagues and came together from Wuhan. The three are from Kasargod, Alappuzha and Thrissur districts. 82 people who interacted with them have been found. Forty are from Thrissur and 42 from other districts are under surveillance. The condition of none is stated to be serious. Minister K K Shailaja had yesterday asserted that more people may be affected by the disease.