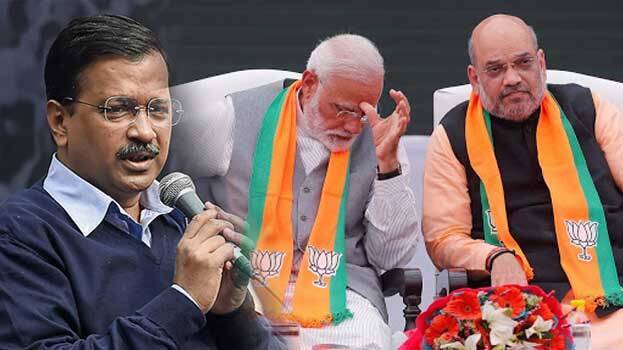 NEW DELHI: The results of Delhi assembly polls have not fully come and the Aam Admi Party (AAP) is all set for a huge win. Aravind Kejriwal had launched a massive election campaign in Delhi for the only purpose of success. If the party is able to begin the celebrations even before the results are out, then the reason would be this. From the very beginning, the Aam Aadmi Party started electioneering with discipline. These are the tactics Kejriwal used in Delhi to bring down the BJP and not let it grow.

They ignored the congress without giving any importance and considered the BJP as their main enemy. He emphasized the politics of development without promoting politics of hatred. The Aam Aadmi Party focused on the good things they executed in Delhi in the last five years. Kejriwal paid more attention to highlight BJP's biggest shortcomings in its election campaign. He also tried to avoid bringing Prime Minister Narendra Modi, the 'crowd puller' in Delhi's election picture. Narendra Modi and Amit Shah led the BJP's electoral charge as they did not have a leader to highlight in Delhi politics.
Kejriwal was well aware that the BJP would try to highlight Modi's influence in Delhi. This is because the BJP used it in most of the elections held in the country. The growth of BJP under the influence of Modi was great. Moreover, the leadership knew that not announcing a chief ministerial candidate in Delhi would be a blow for the BJP. That is why the Aam Aadmi Party launched a campaign asking where the chief ministerial candidate of the BJP is. The BJP had really fallen into the trap of Kejriwal's challenge to announce the chief ministerial candidate if they had the courage. In the meantime, it was a setback for the BJP for their propaganda that Manoj Tiwari will be made the chief minister.

The Congress suffered a setback when the Congress and Narendra Modi directly clashed in the last Lok Sabha election. So Aam Aadmi decided not to repeat the same mistake. The AAP led the election campaign in New Delhi making Prime Narendra Modi irrelevant.