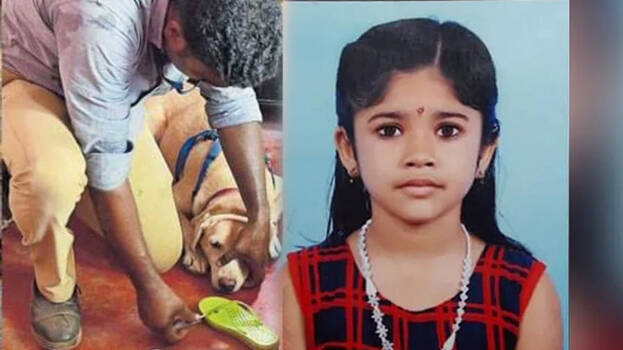 KOLLAM: The mystery surrounding the death of seven-year-old Devanandha is far from over. As relatives and locals raise suspicion over the missing and death of the child, the paths followed by the police sniffer dog Reena are increasing doubts regarding the nature of the child's death.
Upon sniffing Devanandha's clothes, the police sniffer dog first ran towards the backyard of the house before leading to the nearby field. Later, Reena went and stood in front of the locked gate of an abandoned plot. Once the gate was unlocked, the dog moved towards the bushes which were closer to the spot from which the child's body was discovered. As the dog refused to move away from the bushes, it was made to sniff the clothes once again. Following this, it ran through a temporary bridge built across the river and stopped in front of a house. Locals have started demanding probe over why the dog ended up in front of the house.
According to locals, the child must have been abducted by a familiar person. They also pointed out that Devanandha, who usually wears footwear while going outside, left her footwear at home. It must be noted that the shawl of the child's mother was also found near the body.
Meanwhile, police are finding it difficult as no bruises or unusual marks indicating the use of force were found on the child's body. The investigation team is currently waiting for the test results of the child's internal organs. The police surgeons who conducted the autopsy will conduct a probe at the spot from which the body was recovered.