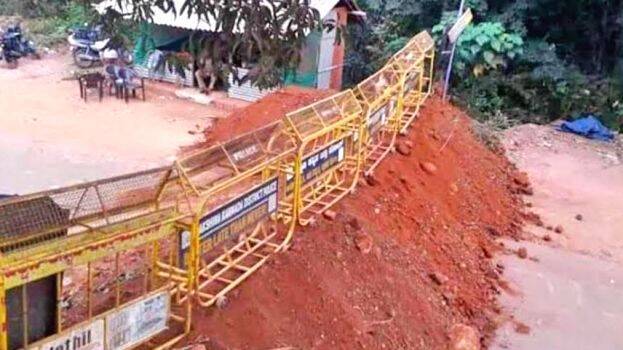 KOCHI: In an affidavit filed in the high court, Kerala informed that Karnataka closed the roads after encroaching the border with Kerala. They told the high court that Karnataka closed the roads after encroaching the Pathore Road of Kasargod-Mangalore border. Karnataka has trespassed into 200-metre of Kerala border. The court was informed that six people died due to the closure of the Karnataka border.
Kerala made it clear that the two states have decided to close 12 of the 17 roads on the Kerala-Karnataka border. But five more roads were forcibly closed by Karnataka. This is a violation of the central directive. Five roads including the Thalapady National Highway were closed after constructing earth embankments. Emergency ambulances coming this way were not allowed to enter. Six undergoing treatment in Karnataka died. It would have saved their lives if they were permitted to enter. They all needed emergency treatment. Kerala convinced the high court that closing the border shows the inhumane attitude of Karnataka.
Hospitals in Mangalore had already informed deputy commissioner of Dakshina Kannada that they were ready to provide treatment to the residents of Kasaragod. Karnataka hid this everywhere Kerala officially raised the issue. Kerala handed over the letter of hospital owners to the high court along with the affidavit. The government informed the court that the claim that hospitals were overflowing and that the patients could no longer be admitted and could not be treated were false.
Karnataka unilaterally constructed earth embankments across roads to wall off Kerala almost permanently from that state at the time of the COVID-19 crisis that has affected both the regions gravely. This happened when many including Kannur SP were holding talks. They were not ready to comply with even after the chief minister spoke to the Karnataka Government. Kerala then approached the central government too but there was no positive response.