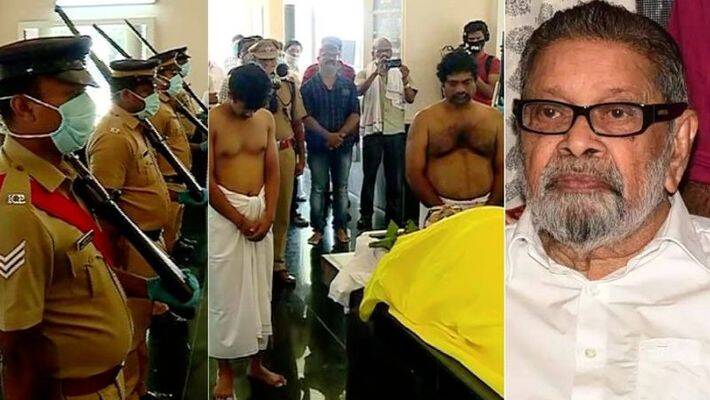 KOCHI: Noted music director M K Arjunan's body was cremated at around 2 pm on Monday with official state honours. Minister VS Sunil Kumar offered his last rites on behalf of the government. Arjunan Master's son Ashokan did the funeral rituals. In the wake of the COVID-19 lockdown, only 10 persons were allowed at the funeral. Not even close friends of the music director could make it to the ceremony.

Arjunan Master, 84, breathed his last at 3.30 am this morning at his residence Parvathy Mandiram at Palluruthy in Kochi.
Arjunan Master tuned music for more than 600 films in over 200 films. He started his career by composing music for theatre and then became active in films by composing music for Karutha Pourni in 1968.
He received state government's award for best music director for his song 'Enne Nokki' in Bhayanakam directed by Jayaraj in 2017. He composed music for KPAC and Thiruvananthapuram Souparnika this year.
Arjunan Master won the hearts of Keralites through his song Manathin Muttathu Mazhavillal Azhaketti from Karutha Pournami. There won't be any Keralite who have not hummed his famous songs like Kasthuri Manakkunnallo Katte, Thankabasmakuriyitta Thamburatti, Chettikulangara Bharaninallil, etc.
He first composed music for the play Pallikuttam. A R Rahman first played keyboard under Arjunan Master. He was the first to notice the talent of Rahman.
Arjunan Master had worked with great composers like Devarajan Master, Vayalar, P Bhaskaran, ONV, etc. One of his famous tunes Chembakathaikal Poothal is one of the best love songs. He has a history of winning the award for the best music director 15 times in the drama category.