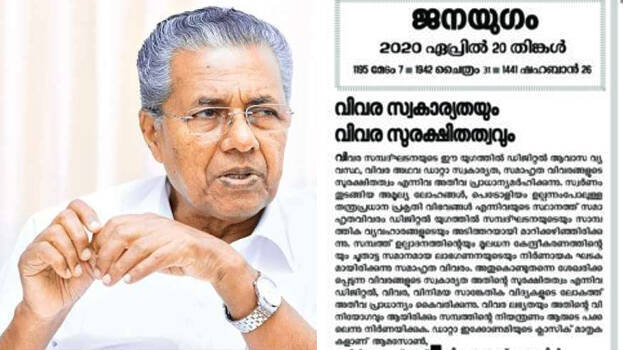 THIRUVANANTHAPURAM: The CPI through its editorial in the party mouthpiece 'Janayugam' has made an indirect attack on the government, in which it is also an ally. On Sunday, the CPI leaders, while taking strong exception to the Sprinklr issue, said that it was not for making public its response on the issue.

Soon after this the editorial was written as if to clarify their stand.

The editorial points out that data security is important and capitalist forces are eyeing countries including India for data.

"Companies build their kingdom on data and it is worrisome to know that cases of misuse of data are many. Despite the fact that stealing of data is a usual thing, the data is not getting due importance.

The misuse of data for financial and political benefits is already part of contemporary history. Collection of data will have a big say in controlling the dynamics of politics.

There is no independent existence for data privacy and data safety; both are complementary. The aim of capital forces who steal data is to create a political atmosphere to satisfy their greed for profit.

At a time when data privacy and data safety is becoming a topic of hot discussion, the fact that needs due consideration is how we can protect our freedom, democracy, self-reliance and our complete authority."