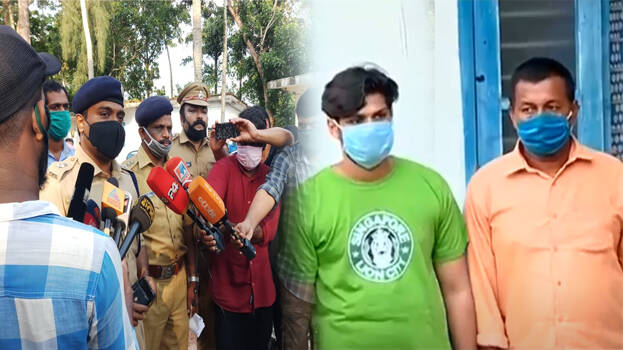 KOLLAM: The Crime Branch of the Kerala Police, here on Sunday, claimed to have solved a murder by arresting husband of the 25-year-old woman and his associate for hatching a conspiracy to eliminate her by making a snake bite her at Anchal, about 70 km from here. She died on May 7.
Speaking to the media, Hari Sankar, Kollam (rural) SP, said it was a well-hatched conspiracy by the deceased's husband Suraj and his friend Suresh, a snake catcher. This case is a strange and rare one in the crime investigation history of Kerala, he said. The case was handed over to the Crime Branch on a complaint from the deceased''s parents, he added.
Detailing the case, he said, "The first attempt to kill Uthara failed as she recovered after the snake bite. Two days after she was discharged from the hospital, Suraj bought another snake on April 24. He kept it in a container.
"On the night of May 6, he placed the snake on the bed she was sleeping. The snake bite her twice. He tried to retrieve the snake, but failed. Next morning he went out and her mother found her lying unconscious. They took her to the hospital, but was declared brought dead. Later, when they returned to the house, the snake was located and killed."
The motive behind the crime, Sankar said was Suraj wanted another wife.
Pointing to the foul play, her parents said in the first instance of snake bite on March 2, she was at her husband''s home in Adoor. After recovering, she had shifted to her parental home in Anchal.
Her parents filed a complaint on May 21 at the local Anchal police station terming it an unnatural death. On Saturday, the Crime Branch took Suraj, Suresh and a relative of Uthara into custody.
According to the police, Suresh had provided Suraj the snakes. He first provided a poisonous viper for Rs 10,000. After the first failed attempt, Suresh supplied him a cobra for Rs 10,000.
The victim's mother said Uthara and Suraj had gone to their room after dinner. On May 7, Suraj, who was a late riser, woke up early and went out. When Uthara didn't wake up, she went to her room and found Uthara lying unconscious, she added.
Her father said Suraj and Uthara had some issues and he was forcing her to get some money from him. What would happen to her one-year-old son, he wondered.
Meanwhile, Suraj''s father said he had no clue about it. "If our son has done any wrong, let the law take its course," he said. However, Suraj''s mother said he was not a person who would kill his wife.