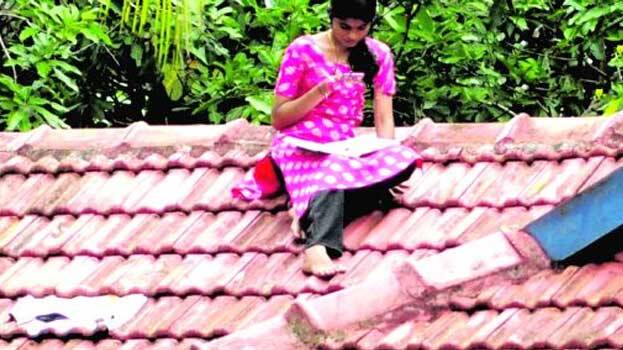 MALAPPURAM: As internet connectivity posed a problem for her online class, third-year BA English student Namitha Narayanan had no other option but to climbed on to the roof of her house. The pictures went viral on social media, where she can be seen standing on a tilted roof of her two-storey house, attending online classes. After the news went viral, officials of Jio ensured that she got high-speed connectivity. She has been given free access to high-speed internet for three months. The incident was in Kottakkal in Malappuram.
"We tried all places in my house, including verandas and roofs. And finally, I got fairly good signal strength on top of our two-storey house," she was quoted as saying by The Hindu.
Namitha is a student of KMCT Arts and Science College, Kuttippuram, Malappuram.
The pictures went viral after her sister Nayana took pictures and posted it as WhatsApp status.
Namitha had earlier contacted the customer care of several operators, but in vain. On seeing her pictures, many legislators and lawmakers including ET Mohammed Basheer called her. Her college principal and teachers also made inquiries. Namitha Narayanan is the daughter of Narayanan Kutty and Jeeja. Her ambition is to become a civil service officer.