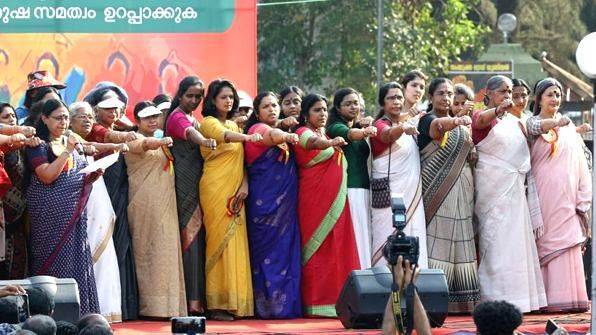 THIUVANNATHAPURAM: Lakhs of women took part in the Women's Wall backed by the LDF-led government for upholding the Renaissance value. There was visible participation of large number women as hundreds of community organisations also come out in support of the women's wall.

From Kasargod to Vellayambalam in Thiruvananthapuram the Wall was formed for about 620 km along National Highway. The rehearsal for the wall got over by 3:45 pm. The formation of wall started at 4 pm and concluded at 4:15 pm. Men supporting the wall also stood on the opposite of side of the Women's Wall.

Health Minister K K Shailaja formed the first link of the chain in Kasargod and CPM Politburo member Brinda Karat formed the last link at Vellayambalam in Thiruvananthapuram. The women dispersed after taking secular and renaissance oath.

Leaders from socio-political circles took part in meeting at important centres. The chief minister welcomed the crowd at the Vellayambalam point. He took part in the meeting after offering flowers at the statue of Ayyankali in Vellayambalam.

Veteran CPM leader V S Achuthanandan was also present at the Vellayambalam venue.

The spouses of the chief minister, ministers and V S Achuthanandan took part in the Women's wall. 174 organisations under renaissance protection committee became part of the Wall.

Meanwhile, Guinness Universal Records forum had reached Kerala to observe the rare kind of women's gathering. An official announcement will be made on its inclusion in the Guinness book of world record if the event satisfies the parameters stipulated by Guinness Rule Book.