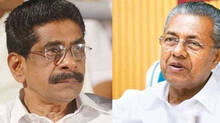 THIRUVANANTHAPURAM: Chief Minister Pinarayi Vijayan is not going to escape from gold smuggling case. This is the first time that the chief minister's office is facing allegation in a gold smuggling case, KPCC president Mullapally Ramachandran has said.

"The needle of suspicion is turning towards chief minister's aides and office. They are humiliating expats and UAE. The chief minister is lying by saying that he was unaware about Swapna Suresh's appointment in IT department.

It is said that gold was smuggled ten times. The chief minister is again in the dream world. The kickbacks the CPM leaders received in the deal should also be brought under the ambit of the investigation.

Gold smuggling is a crime that will affect the country's state of economy and hence, a CBI inquiry should be conducted. A case should be registered under COFEPOSA and the chief minister should also be brought under the purview of the investigation.

The BJP should not join hands with the CPM to scuttle the probe. Those who helped Swapna to go into hiding should also be found out," Mullapally demanded.

Earlier, Opposition leader Ramesh Chennithala had also come out seeking CBI probe into the case.