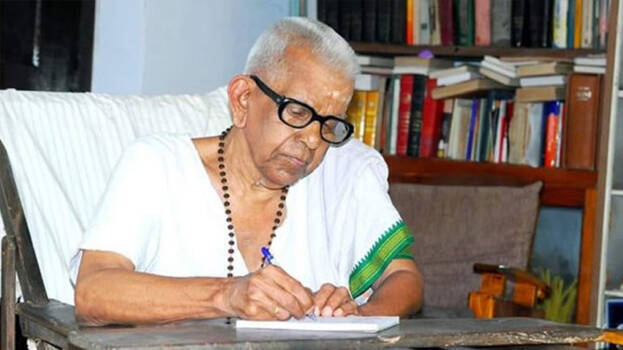 PALAKKAD: It was Akkitham Achuthan Namboodiri who introduced meaningful modernism in Malayalam poet and he was called Mahakavi (great poet) in Malayalam.
Akkitham's dedication to others can be seen throughout his poetries. Akkitham was a great poet who ignited the anxieties and pains of the new age in the fire of poetry that sparked the horizons of Vedopasana. The poet was a personality who had made valuable contributions to the Malayalam language. He was widely considered as the tallest among the Malayalam poets.
Akkitham's writings reflect compassion, Indian philosophy, values, modernity and tradition. It was for these reasons that he was nominated for the 55th Jnanpith Award.
Poet G Sankara Kurup won the maiden Jnanpith award in 1965, S K Poettekkatt brought the laurel to Malayalam after 15 years in 1980. Four years later, Thakazhi Sivasankara Pillai won the coveted award. M T Vasudevan Nair became the fourth Malayali to win the award in 1995. The last Jnanpith reached Kerala in 2007 when ONV Kurup won the laurel. Akkitham won the 55th edition of the Jnanpith.
Akkitham's childhood was poetry in Vedas. He became a journalist through Unni Namboodiri, Mangalodayam and Yogakshema. Worked in All India Radio, Kozhikode and Thrissur. He was active in the national movement and the Kerala Renaissance. Participated in the renewal of the community. He filled the heart of Indian Vedic mythology with poetry that spreads its wings to modernity through reformist thoughts.
He has written 55 works in the fields of poetry, drama, short story, essay, translation and children's literature. There were 45 collections of poems. The works have been translated into foreign languages as well. The flame of modernity in Malayalam poetry was derived from the verse 'Velicham Dukhamanunni' in the twentieth century epic of Akkitham.