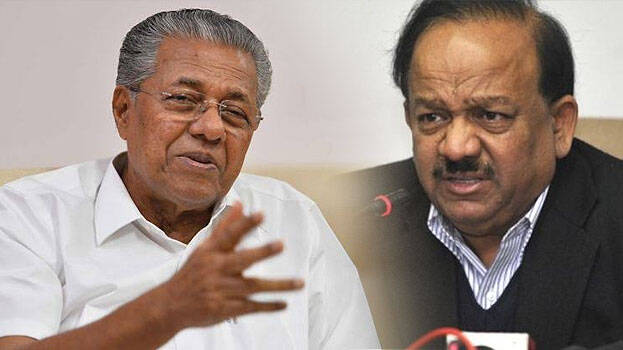 THIRUVANANTHAPURAM: Taking a jibe at union minister Dr Harsh Vardhan for his criticism against Kerala, chief minister Pinarayi Vijayan said that some are uncomfortable over the honours received by the state for the combat against COVID-19. Such people are insulting Kerala by makings baseless and misleading remarks, the CM said.
'The first COVID-19 case reported in India after the outbreak in Wuhan was in Kerala. In the first phase, we managed to contain the virus without any fatalities and major outbreak. Despite having a high density of population, Kerala managed to face the COVID-19 situation when the virus was spreading in world countries', CM Vijayan said.
'The state's combat against COVID-19 was scientific and the low fatality rate is the result of it. The COVID fatality rate in Kerala in May was 0.77. This came down to 0.45 in June which again went down to 0.4 June and 0.38 in September. The fatality rate so far in September in 0.28. Bringing down the fatality rate in such a situation is a proud achievement', he added.
'Kerala is receiving accolades for its COVID fight due to these reasons. The state never went behind any honours or applied for it. All the honours are recognition for the hard work', the chief minister told the media.
The minister further added that Kerala was the first to announce lockdown, before the nationwide lockdown announced by the central government.
Meanwhile, the union minister's comment was about the increase in the ad of the disease in Kerala, the minister said. People will get concerned to see a change in the situation pertaining to a thing going smoothly. The union health minister has always praised Kerala, the CM clarified.