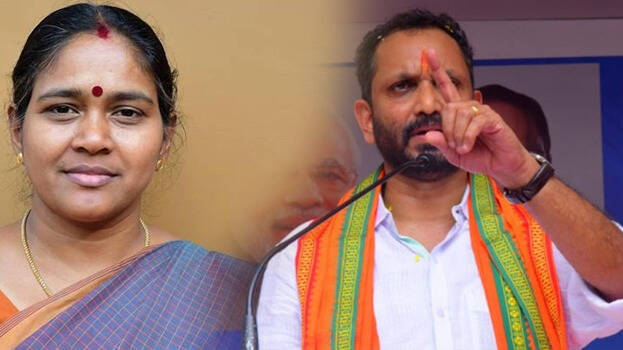 THIRUVANANTHAPURAM: State BJP is on the verge of missing a golden opportunity due to its in-party fight. BJP has received a once in a blue moon chance to put not only the government on a defenceless mode with the arrest of Sivasankar and party secretary's son, Bineesh Kodiyeri but also to lash upon the UDF led opposition as ED's probe on former minister Ibrahim Kunju, K M Shaji and Congress Leader Arayadan Shaukat is currently going on. All these allegations have put both fronts in Kerala in a precarious situation and both are struggling to justify their leaders. Thus BJP has received a favourable political condition to once again expand their vote bank and win more seats in the coming local body polls and state assembly polls. But it seems the infighting within the party would leave the saffron party's plans in tatters.
The issues which had come up with the party's reorganisation has actually prevented the party from reaping political benefits with the ongoing probes of central agencies on both leaders of LDF and UDF. The official faction which enjoys the patronage of union minister V Muraleedharan is currently engaged in a cold war with another prominent faction led by P K Krishnadas. Political moves and the open reactions of Shobha Surendran who stands independent and have no strings attached with either faction has already infuriated P K Krishnadas and they are watching carefully her future strategies. The rebels at regional levels have also become a headache for BJP.
Breaking her long-drawn self imposed silence to the party leaders, Shobha Surendran has lashed out at the state leadership of the party when elections are around the corner. She has also filed a complaint before the party's central leadership for ignoring her and other leaders of the party during the reorganisation of the state unit. In the complaint given to central leadership, Shobha has also alleged that the party chief Surendran is hatching a plot to exterminate her politically. Earlier, she has made a separate group in the party with those who were dissatisfied over the party rejig and reports say that she had complained to the central leadership with its consent.
Shobha has presented her track record in the complaint and she has also stated about the progress made by her party through her candidature in the recent Lok Sabha polls. She has also alleged that a plot is being hatched in the party to expel her via constant insults. Sources in the party say that the group led by Shobha has started discussions against the possible measures to be taken against the state party leadership.