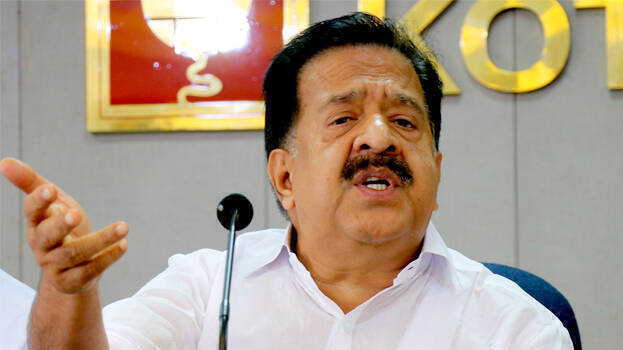 THIRUVANANTHAPURAM: Opposition leader Ramesh Chennithala welcomed the move of the chief minister who gave the nod for vigilance enquiry against him. "Don't think that you(chief minister) can frighten opposition through these cheap moves. We are ready to welcome any kinds of investigation. I have denied this allegation about six years ago. Nobody has given any bribes and nobody has accepted it. About three enquiries held so far on this matter. Even the court has dismissed two such investigations reports citing lack of evidence. Biju Ramesh's audio clip was proved as fake.
"The government has purposefully leaked the audio of Swapna Suresh. It is part of the plot hatched by police and government to sabotage the probe and malign the investigation agency. CPM is behind this plot and that is why the party secretariat said that probe agencies are targeting the chief minister," the opposition leader said in a press brief.
He also said that in order to block the raids in Bineesh Kodiyeri's home, the government sent child rights panel chief to his home. Purported attempts are being made to sabotage the gold smuggling case. The government has destroyed all documentary evidence in the case, which was stored in the protocol section in the secretariat.
Chennithala alleged that when the chief minister's role became evident in the gold smuggling case he has turned against the probe agencies. "Sivasankar and Swapana are trying their best to save the chief minister. People know the role of the chief minister in the case," he said.
"The allegation raised by the Government that the centre is sabotaging development prospects in Kerala is wrong. There are no development projects in Kerala, everything under the garb of development project going on in the state is meant to grab only commission. When all these for reeled in the investigation, now they are blaming investigation agencies and opposition as opposers of development," he stated.
He also alleged that the chief minister also changed his tone when the central agencies summoned his secretary C M Raveendran for questioning in the case. The finance minister is repeatedly stating lies. Thomas Issac has lost the conscience to differentiate between a draft and final report.
"A thorough probe should be started over the news that two ministers in Painarayi Vijayan cabinet have 200 acre land in Maharashtra and their names should be revealed," the opposition leader said based on the news report published by Keralakaumudi.