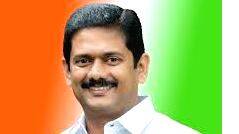 THIRUVANANTHAPURAM: A Congress leader and about 25 Congress leaders from backward communities have been removed from the list of candidates for the local body elections for opposing the government's decision to introduce a 10 percent reservation for the economically weaker sections of forward communities.
KPCC OBC state chairman and Palakkad DCC vice president Sumesh Achuthan and group are the ones removed. Sumesh was ousted also for complaining to the AICC that backward representation is less among the officer bearers of KPCC. He is son of K Achuthan.
Sumesh's name was unanimously given to the Kollengode Block Panchayat Patancherry Division by the Congress Block Committee. After removing Sumesh, the seat was given to a person who contested for the district committee in the Youth Congress organizational election and lost. Former Chittoor Thathamangalam municipal chairman K Madhu, Palakkad municipal Congress parliamentary party leader K Bhavadas, former Patancherry panchayat president PS Sivadas and Youth Congress state secretary Sajesh Chandran and 25 leaders close to Sumesh were denied seats. It is alleged that Palakkad DCC president VK Sreekandan took the initiative for this.