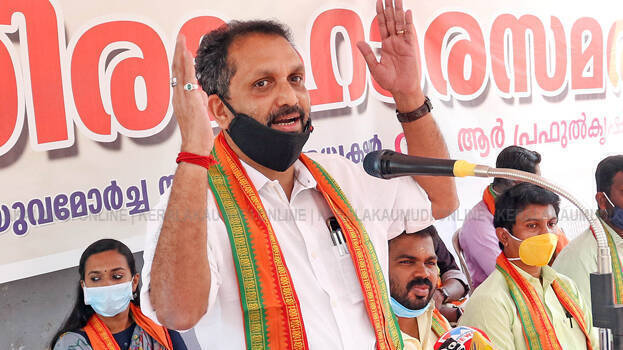 KOTTAYAM: The revelation of Biju Ramesh that the bar bribery case was ended by the chief minister following K M Mani visiting him in person, is the best example of compromise politics between UDF and LDF said BJP chief K Surendran. Biju Ramesh's words justify BJP's allegation that UDF and LDF have hatched a political game in the bar bribery case. He told media persons in the press conference held at Kottayam.
Financial interests are the reasons for compromises. Leaders of both fronts have undertaken black money transactions worth crores. As all leaders are acquiring assets disproportionate to their income, they have adopted compromise formulas on every corruption case. Corruption is the hallmark of both fronts. It was the chief minister who sabotaged the bar bribery case. "After telling Biju Ramesh to stick on his testimony chief minister withdrew from the case. He must reveal for whom did he committed this heinous act?" Surendran asked.
It should be known that on what basis does the leaders sabotaged the cases. They must tell why did they try to protect Oommen Chandy, Ramesh Chennithala and K Babu. Surendran said that important contentions like who collected the bribe amount of Rs 10 crore and to whom it was given should be investigated.
UDF and LDF are birds with the same feather. Jose K Mani became pious when he defected from UDF. All scandals came to light on the probes conducted by central probe agencies. With local body polls, every scandal would come to an end. Corrupted coalitions will be punished by the people, the BJP chief said.
The relatives of the UDF leader who raised the slogan, 'a vote against corruption,' had to call Biju Ramesh to save him which is a precarious incident. ED have the power to investigate corruption and black money cases. He also added that breach of privilege notice should be served to finance minister Thomas Issac.