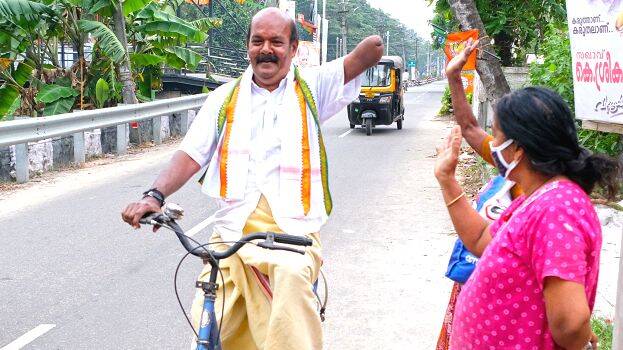 THIRUVANANTHAPURAM: Suresh Kumar has never felt the disability of his left hand. Right from his school days, he was able to handle a bicycle and later he managed the same with scooters. When he reached RSP through PSU and RYF, Suresh Kumar became Karikkakom Suresh. He is currently contesting from his own constituency as a UDF candidate for the Thiruvananthapuram Corporation.
Suresh was born with a disability. He was the chairman of the standing committee in Kadakampally panchayath 20 years ago. The journey was by bicycle then. Later, a Kinetic Honda became his vehicle. While working at PSU, the RSP's student body, one of his co-workers was NK Premachandran.
Suresh, 56, had contested from Chacka ward last time. The current mayor K Sreekumar of the LDF won that time. The same Sreekumar is his opponent in Karikakam ward this time. Karikakam is different from Chakka, which is now a women's ward. BJP won the last election here. Prior to that, LDF won the seat. BJP candidate DK Kumaran came second. He is contesting in BJP ticket this time. Suresh's mission is to elevate the position of UDF that slipped to third position in the last two elections, to the first position. During the fourth round of the campaign, voters saw Suresh riding a bicycle. Wife: Sindhu. Children: Reshma and Greeshma.