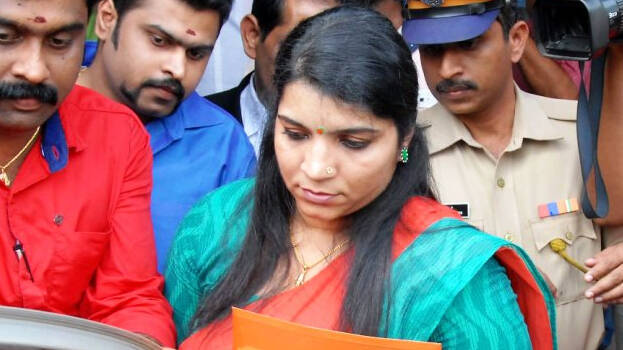 THIRUVANANTHAPURAM: The job scam involving Saritha S Nair came to the notice of excise department about a month ago. Bevco manager Meena kumari has submitted a complaint in this regard. The gang led by Saritha Nair issued fake appointment letters to the job seekers under Meena Kumari's name.
Saritha and her accomplices have even forged fake documents under Bevco MD's name to carry out the scam. They even forged fake summoning letters bearing KTDC MD's signature to the job seekers. The complainants in their testimony have said that the money was collected by LDF candidate in Kunnatukal Panchayat and Swapna has called them multiple times under the bogus identity of a high ranking secretariat official.
Similar to the solar scam, Saritha has also undertaken the job scam by convincing the victims that she is an influential person in government levels.
Saritha has siphoned off Rs 11 lakh from job seekers, promising them jobs in public sector undertakings. The other accused in the case are the CPI candidate of Kunnatukal panchayat T Rateesh and public activist Shaju Paliyodu.
Rateesh and Shaju collected money from the job aspirants on 2018 December. But they couldn't provide jobs. With this, the job aspirants approached them demanding their money. Saritha made a cinematic entrance at this time.
She called in person every individual who gave money to Rateesh and Shaju. Without revealing her true identity and address, she introduced herself to these aspirants as a high-level official working in the secretariat.
Later she revealed her true identity when the aspirants told her that they gave Rs 10 lakh for jobs at Beverage corporation, Saritha demanded an additional Rs 1 lakh. Most of these phone calls were made in last year. On the basis of these phone calls, an additional amount of money was sent by the aspirants to Saritha's accounts.
Police have also received the documents of these transactions. Police have received the information that the gang has amassed the money from more than 20 persons. Police are gearing up to make a thorough probe into the case. Saritha Nair is now residing in Tamil Nadu along with her kids and mother.