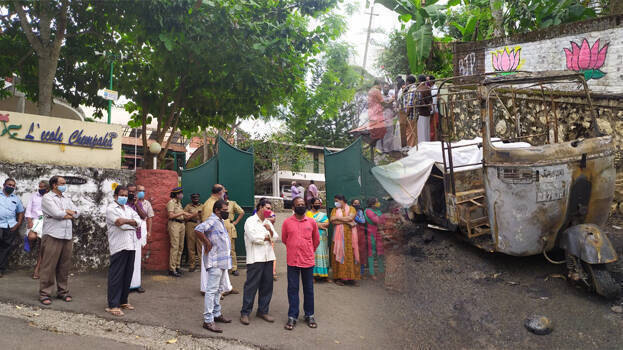 THIRUVANANTHAPURAM: The authorities of Le'cole Chempaka have offered a compensation of Rs five lakh to the family of the driver who committed suicide. Sreekumar (50) of Vattappara Maruthoor Pulimoottil House committed suicide this morning after he lost his job. His colleagues had requested the collector to intervene in the issue and offer him compensation. The management's move was following it.
He committed suicide by setting himself ablaze at a place near the school. People seeing the fire called the fire force. Though the flames were doused, he was declared dead by that time.
Sreekumar, who had been working at the school in Kariyam for the last 16 years, was sacked six months ago following lockdown. The school management had sacked 61 employees including drivers and ayahs following the lockdown.
For the past few days the employees were protesting near the school. The school authorities had assured to reinstate them via outsourcing agency. According to that, Sreekumar came for work and saw some others working in the school. It is believed that he may have taken the drastic step after losing his job.
His wife is working as an ayaha in the same school. He has two daughters. He has some financial liabilities incurred after conducting his daughter's marriage and constructing a house. The couple were facing financial crisis after losing jobs.