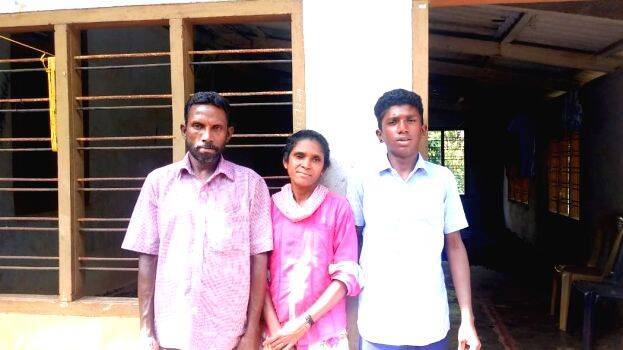 IDUKKI: Minister Thomas Isaac at the end of his budget speech recited a four-line poem written by a poet who lives in a two-room hut made of sheets in Kannampady, a tribal village in the Idukki Wildlife Sanctuary. An Adivasi boy named KP Amal, a 10th class student of Kannampady tribal school wrote this poem.
But when his poem was being recited in the assembly, the poet was in his class without knowing it. The teachers were not informed as there is no TV or internet in the school. The school was informed when a teacher in Pala called. Amal could not believe it at first as it was a poem written a year ago. He was very happy when wishes poured in later. The finance minister recited the last four lines of the poem 'Bhoomi Parayunnath' he wrote for Little Kites, a manuscript magazine. Amal says the poem is on leave.
Amal's family, including his father, mother and sister, live in a two-room hut made of old sheets that get inundated when it rains heavily. The family is supported by parents, Kallolikal Pakshajakshan and Sarada, who work as daily wagers. Amal's sister Athira is a degree student. Amal says that he has given rest for poetry for the time being as he is in 10th class.
Adithya's poem on the dignity of a woman
The Finance Minister also recited a poem by Aditya Ravi, a Plus One student of St. Thomas HSS in Idukki Erattayar, while reading out the part of the budget regarding women's safety. The minister said Adithya's lyrics were a testament to the dignity of a woman who stands tall against violence. These are the lines in a poem written by Adithya when she was in ninth class. She is the daughter of Ravi and Vasantha. Her sister Akshaya is a third class student of the same school.