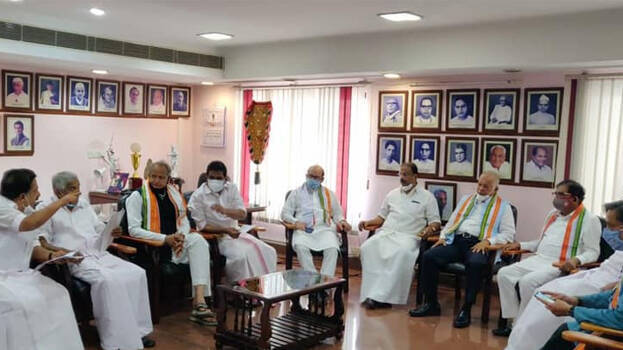 THIRUVANANTHAPURAM: The first meet on Congress's election monitoring committee meet held at their headquarters in Indira Bhavan. In the press conference held after the meet, the panel's chief Oommen Chandy said that Congress is planning to design a manifesto based on people's interest. In order to get a pulse of the people's feelings, the UDF's manifesto committee will conduct meets in different districts of the state.
The panel chief Oommen Chandy has also said that Shashi Tharoor a committee member will discuss issues with people from different strata of the society including students and youngsters. Shashi Tharoor will also conduct special discussions with the people from five districts— Thiruvananthapuram, Ernakulam, Kozhikode, Malappuram and Palakkad.
The Aishwarya Kerala yatra of opposition leader Ramesh Chennithala will commence from January 31st. The MPs from each district have been given the special charge to make the programme successful. Along with this, Oommen Chandy will be given the charge of Kottayam district. T Siddique will be given the charge of Malappuram district and K C Venugopal will be given the charge of Wayanad and Alappuzha.
Meanwhile, the chairman of UDF, Ramesh Chennithala has said that front has not initiated any open talk on seat distribution but informal discussions have been initiated with various parties on the same. Chennithala also added that former chief minister Oommen Chandy will inaugurate the programme.
K V Thomas will continue in Congress. He said that Thomas is an important senior leader of the party. He also said that Congress is a democratic party and the party won't deny space to those who have diverse opinions. He also added that the election monitoring committee will also form district committees.
K Muraleedharan and V M Sudheeran two prominent members of the panel have not attended the meeting. Sudheeran was absent due to health complications. K Muraleedhran also didn't attend as he had to participate in the inauguration of a railway overbridge in his constituency. Other three members and three AICC members participated in the meeting.