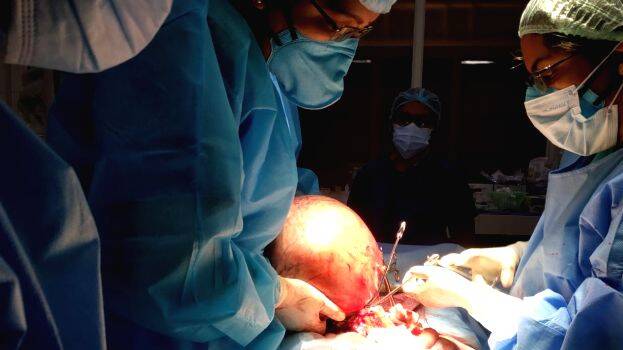 THIRUVANANTHAPURAM: A 64-year-old woman had an 8 kg fibroid removed from her abdomen during a complex operation at SAT Hospital. A 30 cm long, wide and deep fibroid was extracted from the uterus of an elderly woman from Kollam. The woman came to the hospital nine months ago with symptoms of loss of appetite, abdominal pain and weight loss. In addition, she was being treated for high blood pressure and diabetes. Subsequent examination showed the presence of a fibroid.
The patient, who was unwilling to seek treatment in the context of Covid, was admitted to the hospital nine months later due to increased physical discomfort. Within nine months, the fibroid grew to a weight of eight kilograms. The patient, who was admitted to Dr. Sreelatha's unit in the gynecology department, underwent a complex operation under the guidance of Dr. Bindu Nambeesan and Dr. J. Simi. The patient was also given four units of blood during the surgery.
Dr. Jayakumar, Associate Professor at the Department of Anesthesia, Dr. Krishna, Dr. Anju, and nurse Lakshmi was part of the surgery.