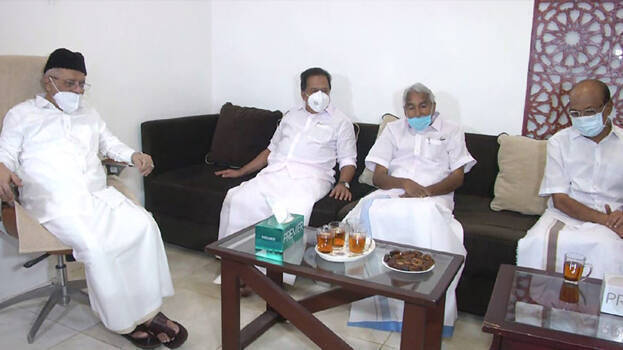 KOZHIKODE: P K Kunhalikutty said that informal discussions have started on the allocation of seats in the UDF. He also said that a detailed political discussion were held with Panakkad Thangal. He said this while talking to the media after discussions held between Thangal, Oommen Chandy and Ramesh Chennithala.
Kunhalikutty said the topics to be discussed with Thangal were conversed. Kunhalikutty said a formal sitting would be held in Thiruvananthapuram to discuss matters related to the Aishwarya Kerala Yatra. The league is demanding six new seats this time. The league contested 24 seats last time. The league this time wants 30 seats including the seats vacated by allied parties.
The league is not ready to publicly claim seats. There are indications that the Congress leaders have come to Panakkad with a request that there should be no public outcry during election time. The Congress wants to avoid controversies like seeking a fifth ministerial post.
The congress' consensus formula is to give two additional seats. An acceptable independent candidate should be fielded in one seat and that candidate will be jointly supported by the League and the Congress. Thus, the Congress has promised a three-seat formula for the League.
Kunhalikutty is responsible for formulating one of the consensus formulas. It is believed that an understanding will be reached today itself. Oommen Chandy said their visit was cordial.
Rahul Gandhi is reaching Kerala today. Oommen Chandy, Chennithala and League leaders have reached Karipur airport to receive him. An informal discussion will also be held at the Karipur Airport