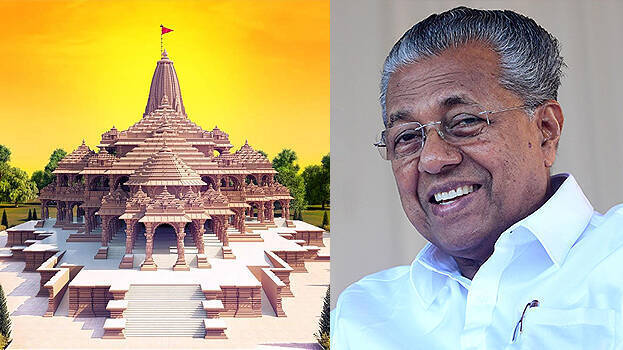 THIRUVANANTHAPURAM: Chief Minister Pinarayi Vijayan has responded to the controversy regarding Eldhose Kunnappilly MLA making contributions for the construction of the Ram temple. According to him, the limitation of the Congress was that the difference between the Sangh Parivar and the Congress was getting too narrow. He said that Congressmen were joining the BJP even before the formation of the government, citing the issue of Congress MLAs joining the BJP in Pondicherry. The Chief Minister said that such a trend is going on all over the country.
"The greatest protection of secularism is to take an uncompromising stand against communalism. Is the Congress able to take a firm stand against communalism on any issue in our country? They seem to be wanting to compromise with it," Pinarayi said. They are worried that they will lose votes from this category.
Pinarayi Vijayan also said that BJP is finding it easy to attract Congressmen when there was no policy difference between the two parties and they were reaping the benefits." However, that is not happening in Kerala because the Left is strong in the state. It adopts an uncompromising approach to secularism. Its slight effect can be seen in those here as well," the CM added.
He criticized the Congress MLA for doing what Congress national leader Digvijay Singh had done and said that Congress leaders were highlighting their senior leaders to justify it. The Chief Minister reminded that this is a dangerous position and the Congress should understand that by taking such a stance they are only endorsing what the RSS has been standing for.