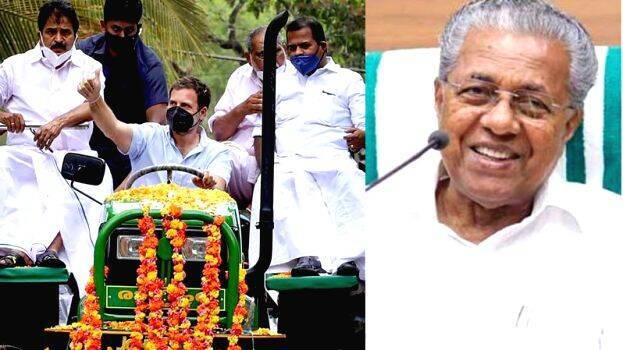 THIRUVANANTHAPURAM: Taking a dig at Congress leader and Wayanad MP Rahul Gandhi, Chief Minister Pinarayi Vijayan said in a press conference that he is thankful for Rahul's interest in Kerala after ignoring the farmers' agitation in Delhi. He came to Kerala to support the farmers, this is extraordinary, he said. Pinarayi Vijayan scoffed that Rahul's broad-mindedness is commendable.
The cause of the agrarian crisis was the liberal policies implemented by the Congress government in the 90s. The blood of the farmers in the hands of the Congress. Pinarayi demanded that Rahul unconditionally apologize to the farmers for this. Rahul and Yogi have the same sentiments against the CPM in which they unite. The CM also said that Kerala doesn't move forward with the aim of getting their certificates. Rahul Gandhi should be prepared to inquire into what has happened in his own constituency. How the coffee and pepper cultivation, which was the backbone of Wayanad, collapsed.
According to P Sainath, a well-known journalist who told the world about the depth of the crisis in India, coffee and pepper plantations in Wayanad lost about Rs 6,000 crore in the first two to three years of 2000. Thousands of farmers and farm workers committed suicide. This is due to the reforms implemented by the Congress. Rahul Gandhi should unconditionally apologize to the farmers on behalf of the Congress for this crime. The CM added that the policies should have been revised.
The CM also asked if he was keen on bringing new alternatives which the country needs now.