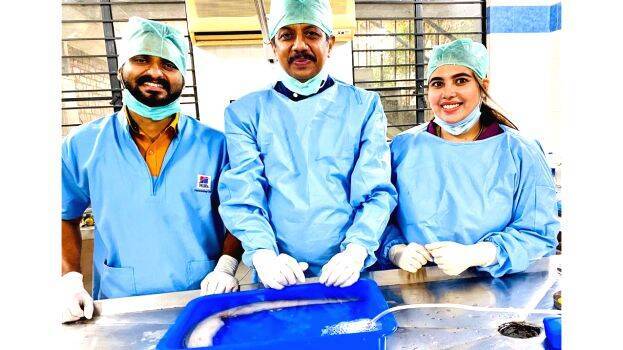 THIRUVANANTHAPURAM: Dr. Jacob Alexander and his team at the Thiruvananthapuram Zoo gave a new birth to a sea fish in the museum aquarium through a rare surgery.
Moray eel, the fish with resemblances to the snake, was attacked by a fish of the same species that accompanied it, and its internal organs were exposed after the incident.
The surgery, which began at 2 am on Saturday, was completed by 6 pm. This is the first time in the zoo's history that such a surgery has been performed on a fish.
The surgery was performed after the fish was transferred to a container filled with seawater and given anesthesia through a tube. Seawater was also supplied through another tube. The ovary was in a protruding state. As many as 30 stitches were needed after it was removed.
In addition to injecting antibiotics, it is also mixed with water in which the fish is kept. Significant progress has been made but it will take time to fully recover.
In the surgery led by Dr. Jacob, his students and veterinary doctor couple from from Chengannur, Titu Abraham and Amrithalakshmi, also participated. They were called for this. The fish weighs 600 grams and is five years old. Size 60 cm.

Carnivores
Moray eels are dangerous and carnivorous. Their food is small fish. They also attack humans if they try to catch them. It has sharp curved teeth. The fish has small eyes, and oily body without scales. Its colour varies according to habitat. Lifespan is up to 10 years.