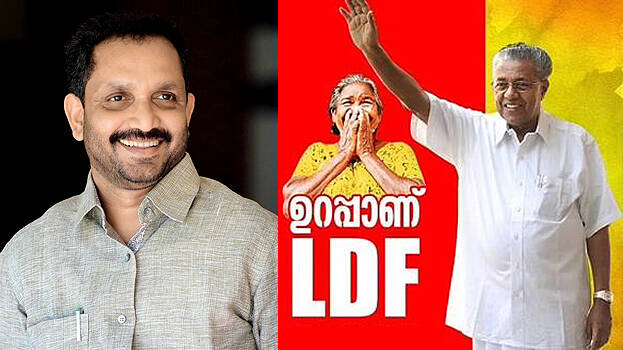 THIRUVANANTHAPURAM: The LDF has always filled the election arena with campaign slogans to garner voters' interest. In the last assembly elections, the slogan raised by the Left Front 'LDF varum ellam sheriyaakum' (LDF will come and everything will be all right)', was widely welcomed. That was reflected in the election results. But this time, everyone is wondering whether the slogan put forward by the LDF would result in a backlash for the Front.
Chief Minister Pinarayi Vijayan formally received the logo of the election campaign from LDF convener and CPM state acting secretary A. Vijayaraghavan. Later, the slogan 'Urappaanu LDF' (LDF for sure) was celebrated on social media, but mostly as trolls.
BJP state president K Surendran has ridiculed the campaign slogan. At a reception given for the victory march in Tripunithura, Surendran mocked, 'Urappalla, arappaanu LDF' (LDF is disgusting). Later, troll accounts and Sangh Parivar supporters took to social media.
Meanwhile, advertisements with new slogan along with the picture of Chief Minister Pinarayi Vijayan have started appearing on social media. There are also sub-headings like 'sure development', 'sure health' and 'people's welfare for sure' also appeared. Boards with the new tagline have also been set up across the state. According to Vijayaraghavan, the new campaign slogan is based on the assurance that the LDF government will return to power as a continuation of the development projects implemented. But it remains to be seen whether the slogan will adversely affect the Left Front.