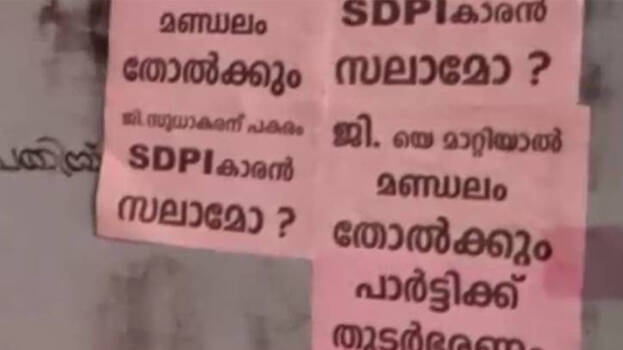 ALAPPUZHA: Posters have appeared in Ambalapuzha against denying candidature to sitting MLA and minister G Sudhakaran and fielding H Salam in the seat. The posters which say, 'Instead od Sudhakaran, SDPI member Salam? If 'G' is removed then party will lose the constituency forever. Does the party don't want another term,' appeared on the walls of Valiyachudukad martyr's hall.
The posters also say that without Sudhakaran party has no assurance in the constituency and if he is changed then the party will lose the polls. The posters supporting Sudhakaran have surfaced in Ambalapuzha, as the district committee and district secretariat is going to commence further discussions on the candidate's list on Saturday.
As the party has decided no to give seats to those who have contested more than twice, G Sudhakaran and Thomas Isaac, two prominent leaders of the district had to withdraw from the poll fray but the party workers in the district think that their withdrawal might prove costly for the party. Apart from these two senior leaders, the state committee has also decided not to give seats to A K Balan, E P Jayarajan and C Raveendranath.