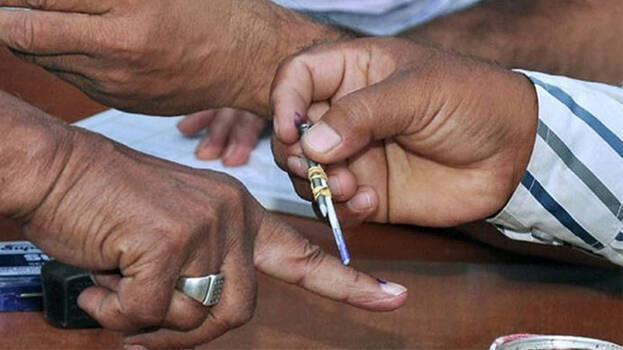 KANNUR: Police personnel and polling officials got trapped when a voter with the same name as another voter cast the latter's vote. The incident happened in the 73rd booth of Tazhechovve LP school yesterday at 9 am. Sasheendran, son of Gopalan in Valiyanoor Vismayam has cast the votes of Sasheendran from Tazhechovve Revathy Nivas.
This is what the police says: Sasheendran didn't have his voters ID. Instead of voter's ID, Sasheendran came to the polling booth with an Aadhaar card and the voter's slip. The slip had the booth's name and the place. Nobody in the polling booth dissented when he went to cast his vote. In between this, the booth agent also identified the real voter standing in the queue. His name was also Saseendran and his father's name was also Gopalan. This led to conflict and pandemonium in the polling booth. When the issue came to light the original voter was given the opportunity to cast tender's vote.
Tender's vote will be considered via court if a situation of tie or negligible majority is reported after the final phase of counting.
Isolated incidents of conflicts
A brawl occurred between CPM-UDF workers in the 117th booth of Kannur Taliparambu Kadambery. The fight between the party workers occurred when the UDF candidate in Taliparambu, Advocate V P Abdul Rasheed was blocked by a group of miscreants. Later police reached the site, and dispersed the violent crowd gathered in the area. The presiding officer in the 105 A booth in Payyanur Kandakalli school has complained that he was beaten up. Pannur native, professor Mohammed Ashraf Kalathil was the presiding officer. He was beaten up as he didn't allow a voter to cast vote. He says the voter didn't have any valid ID card except his ration card.