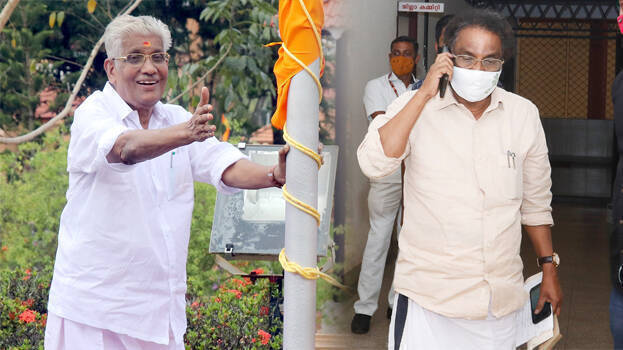 PALAKKAD: Minister A K Balan has said that NSS general secretary Sukumaran Nair has committed political betrayal. The minister replied yesterday to Sukumaran Nair's statement after casting his vote. "This was the bomb made by UDF and we will fight against it politically," he said.
"The statements of Congress and other leaders in UDF made after Sukumaran Nair's statement has revealed the conspiracy behind it. Sukumaran Nair has done this after occupying the seat of Narayana Panicker and Mannathu Padmanabhan. Yet I don't think that all Nairs in the state will obey NSS. The results will show that," A K Balan said.
CPM state secretary A Vijayaraghavan has also come up criticising Sukumaran Nair. "The election result will prove that his community will reject him. Sukumaran Nair has not taken the stand of a communal leader," Vijayaraghavan said. Whereas J Mercykutty Amma said that Sukumaran Nair's statement ridicules the basic common sense of the people.
In the midst of mounting criticism from CPM, NSS has come up with clarification. NSS said that the current controversy has been created by misinterpreting Sukumaran Nair's words. It was not NSS that began the controversy over Sabarimala. NSS have a clear stand over the issue of faith and it will not change today or tomorrow. NSS also said that the chief's statement over the protection of faith got connected with Lord Ayyappa, following Pinarayi Vijayan's statement.