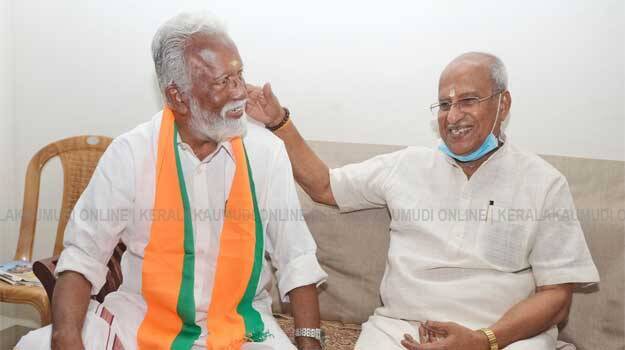 THIRUVANANTHAPURAM: BJP candidate of Nemom constituency has rescinded over incumbent MLA O Rajagopal's statement. BJP MLA Rajagopal has said that he doesn't know 'other things' going on in the constituency as an MLA. Kummanam has said on Wednesday that it shows his quality and he will never take a stand that is different from us.
"O Rajagopal has done more than Rs 400 crore worth of developmental activities in Nemom. He has worked with 100 per cent dedication for my victory. There exist deep and hearty relations between us," he said.
"Booth level evaluations show that we will win from Nemom with a landslide majority. The relentless thirst for a change in regime was reflected in the voting," he said. On Muraleedharan's statement that victory is assured, Kummanam replied that he doesn't know on what basis he had made such a statement.
"Muraleedharan must reveal the reasons for how he will win by securing more votes than expected. I have clear reasons to talks about victory. I am representing a party that stood in first place in the last three elections. There has been no reason to lose those votes which I had secured last time. Is there any political situation in Nemom for Congress to secure more votes. If Muraleedhran is stronger, Shashi Tharoor who is much stronger than him had contested here. Even when I contested against him, I was in the first place," Kummanam said.