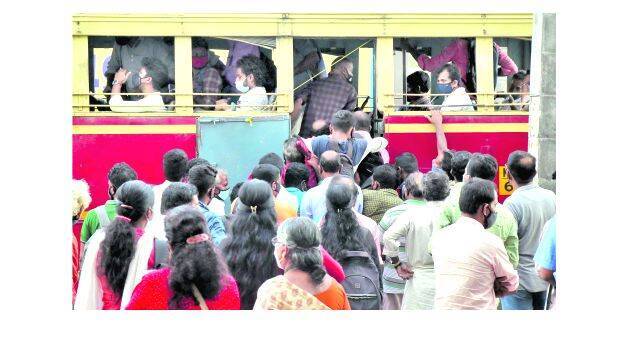 THIRUVANANTHAPURAM: Amid the surge in Covid cases, a decision was taken at the high-level meeting convened by the Chief Minister yesterday to tighten the restrictions in the next two weeks and to conduct further tests by conducting 2.5 lakh tests today and tomorrow. Prior permission was also given to the district collectors to issue a restraining order.
Theaters and bars will be allowed to open only until 9 pm. The number of people attending hall events is limited to 75 and the outdoor events to 150. No trade fairs for the next two weeks. The CM said the aim is to prevent the spread of the disease through extensive testing, strict control and intensive vaccination.
Mobile RTPCR tests will be carried out in high spread areas and markets. In two weeks, all government departments will take coordinated action. The CM also directed that the determination of the containment zones should not hinder the Covid testing.
Adequate travel arrangements will be made for the students as it is examination time. The CM also said that the district administration should talk to the religious leaders of the respective areas to avoid crowds in places of worship.
Group testing
Covid tests for two days will be carried out after finding people living in areas where Covid is rapidly spreading, those working in the public transportation sector, hospitality, tourism sector, shops, hotels, markets and service centers, and delivery executives. Participants in the election campaign will also be subjected to scrutiny.
No gatherings
1 People should not gather in big busy malls and markets
2 Marriage and home entry should be notified to the district authorities in advance
Checking whether Covid maintains reserves at 3 tuition centers
4 People should not gather at festivals and religious ceremonies
Extensive inspection to ensure control including 5 buses