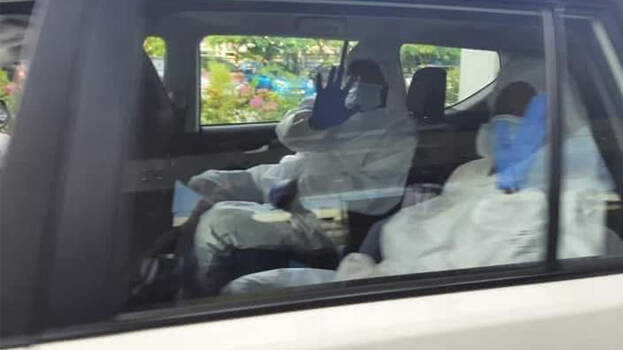 V T Balram MLA shared the picture of former chief minister Oommen Chandy returning from the hospital wearing a PPE kit after testing negative along with his son Chandy Oommen. 'Shri Oommen Chandy returning home after testing Covid negative along with his son. He wrote a message wishing him all the best to recover soon after following Covid protocol and return to public life.'
It was alleged that Chief Minister Pinarayi Vijayan while returning from Kozhikode Medical College after treatment had violated Covid protocol. He was criticised for returning home in the car without wearing a PPE kit. It is in this context, V T Balram shared the images.
കോവിഡ് നെഗറ്റീവ് ആയതിന് ശേഷം മകനോടൊപ്പം വീട്ടിലേക്ക് പോവുന്ന പ്രിയ നേതാവ് ശ്രീ ഉമ്മൻ ചാണ്ടി.

ബാക്കി പ്രോട്ടോക്കോളുകളും...

Posted by VT Balram on Saturday, 17 April 2021
Many including Union Minister V Muraleedharan had strongly criticised the chief minister for violating Covid protocol. V Muraleedharan's reference Covidiot against the chief minister had sparked a controversy. However, he stuck firm on his reference. Muraleedharan asked what else should we call those violating Covid protocol.