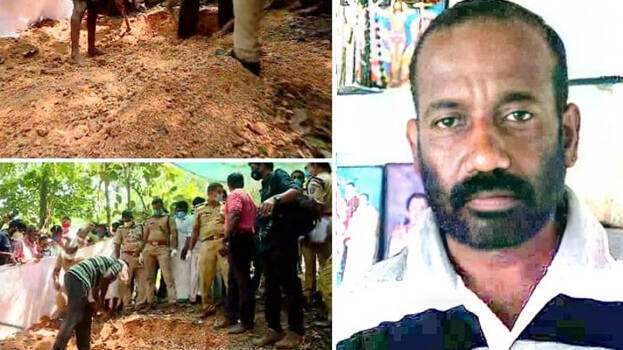 KOLLAM: The search for evidence by police is ongoing at Anchal near Eroor, where it is suspected to have taken place a Drishyam model murder. When a pit was dug at the site of murder, police have found a piece of bone and a jute bag. The search for evidence has been ongoing at the murder site.
The search has been going on in the presence of forensic experts. The accused Sajin and his mother were taken by the police to the murder site for collecting more pieces of evidence. Many people have gathered around the murder site to see the body.
The testimony given by a relative of Sajin said in the verbal spat which occurred between Sajin and his brother Shaji, the former hit the latter's head and thus killed Shaji. Later Shaji's body was disposed in the plot adjacent to his home. Sajin's family has told the people that Shaji has gone missing.
Whereas Sajin has told police that he had not killed Shaji after proper planning and it was a spontaneous action.
"Shaji had tried to attack my wife and our mother. I only intended to stop him but it turned out to be a mistake. I only wanted him to prevent him from attacking the women. Shaji always used to make problems at home," Sajin told police.