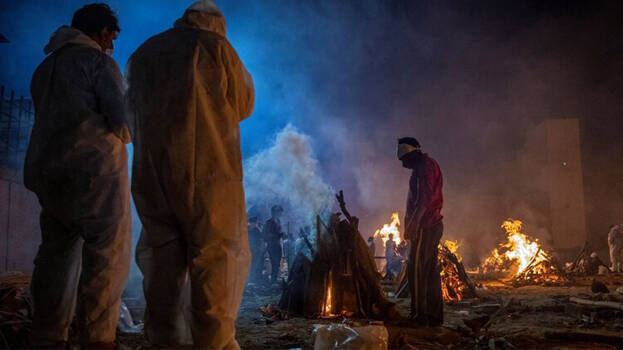 NEW DELHI: Daily new infections of coronavirus (Covid-19) in India have been witnessing a rapid rise since the second wave of the pandemic. On Monday, 3,52,991 new cases and 2,812 new deaths were reported. It was for the fifth straight day that India recorded more than 300,000 cases in a 24-hours' span. So far, 1,73,13,163 cases and 1,95,123 deaths have been reported in India.
Active caseload in the country constituted 16.25% of the total positive cases so far and stood at 2,813,658, according to data from the Union health and family welfare ministry. As many as 1,402,367 samples were tested in the previous 24 hours for the disease while a cumulative of 279,321,177 samples have been tested so far in the country, according to the Indian Council of Medical Research (ICMR). Meanwhile, 219,272 patients were discharged in the last 24 hours with which the overall recoveries rose to 14,304,382.
More than 141 million doses of the Covid-19 vaccine (141,911,223 to be exact) have been administered as of 8am on the day. The Covid-19 vaccination drive is also set to enter its next phase from May 1 to include all people above the age of 18 years.
Delhi recorded its highest ever single-day fatalities -- 306 people died as more than 26,000 fresh cases were logged. The national capital is battling a devastating wave of coronavirus and a recurring oxygen shortage. Meanwhile, Maharashtra reported 67,013 new Covid-19 cases and 568 deaths in the last 24 hours. Uttar Pradesh recorded highest single-day spike of 34,379 cases.
The six most affected states by total cases are Maharashtra (4,094,840), Kerala (1,322,054), Karnataka (1,109,650), Tamil Nadu (962,935), Andhra Pradesh (942,135), Uttar Pradesh (976,765) and Delhi (956,348).