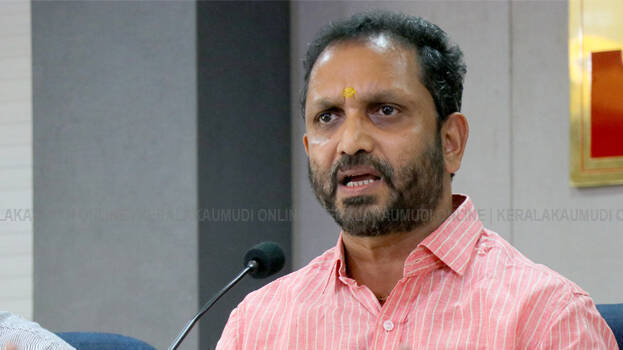 KOZHIKODE: BJP state president K Surendran has rejected the allegations of the chief minister on vote trading. Compared to the 2016 elections, BJP's votes have reduced. "Being the state president I am responsible for the party's defeat in the assembly polls and I have given clarification to the central leadership on the party's performance," K Surendran said.
"The left front which alleges that BJP's vote share has come down is not aware of the fact that their vote share has reduced this time compared to the 2019 Lok Sabha polls. Compared to 2016, their vote share has reduced to eight per cent. Whether they have sold those votes and where it had gone, to Dharmadom or to AKG centre," he added.
Surendran had also pointed out that the left front has got lower number of votes from Thripunnihtura, Kunadara and Palakkad. "The chief minister must know that he is not the party secretary and he cannot make such comments after holding such a responsible post. LDF had sold the votes to UDF in Wayanad this time which it has lost to Rahul Gandhi previously in the Lok Sabha polls. LDF's votes were reduced in the constituencies where BJP had clear winning chances," the state BJP president said.
"Neither the chief minister nor the LDF's candidate in Nemom, V Sivakutty has denied the fact that they have received the support of SDPI. In Kalpetta, where LDF's Sreyamskumar has contested all Muslim votes went to T Siddique. Sreyamskumar could have won from Kalpetta with a majority of 25,000 votes. When Shafi Parambil, Siddique and A K M Ashraf won, not only Congress workers but even CPM members were happy about it. Wherever the league has not contested, all communal forces have helped CPM," Surendran alleged.
"Similar to the attack against Sukumaran Nair all those who are not the party's well-wishers will be attacked. Many CPM leaders are threatening those who have not helped them in the polls. If Congress is not ready to consider what happened to P C George and Jose K Mani who reacted on Love Jihad, then they are heading to a disaster. The party will enquire in detail about the leakage of votes from the BJP camp," Surendran said.