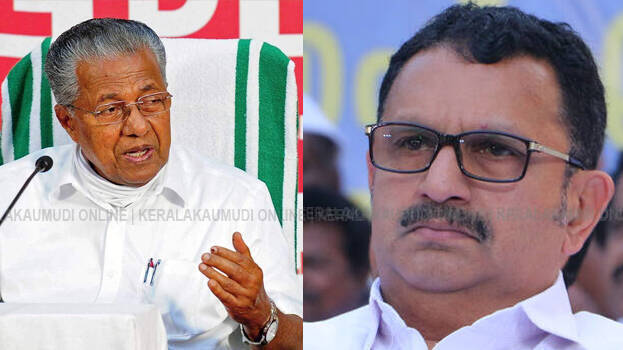 THIRUVANANTHAPURAM: Senior Congress leader K Muraleedharan has said that the chief minister is concerned over the lower polling rates of BJP. He also alleged that the chief minister considers BJP as a stick with which he can beat up the right front. "Instead of being more humble to the people with winning a second term, the chief minister is blaming the entire opposition. After showering us with allegations and indignant statements on us now he is appealing to the opposition for creative support," Muraleedharan said.
"Assessing the competition between UDF and LDF on the basis of the vote share of BJP is an absurd approach. CPM leaders are saying statements like they are going to capture India with 99 assembly seats from Kerala because their heads are filled with pride. UDF has never blamed any community organisations in the state. They have the right to criticise anyone. A community organisation has the right to demand a regime change. That is only what the NSS general secretary has said," Muraleedharan added.
"Even the beginning of the second Pinarayi government is throwing stones at all who criticise them. They won't get the power to do anything by accidentally winning a lottery. Congress has gone through big crises in the past also. Even in Punjab and Haryana, the party continued in opposition benches for about 10 years. But CPM is a big zero in Bengal and Tripura where they had ruled for decades," the senior Congress leader said.
"UDF is happy over closing down the account of BJP in Nemom. In many wards, UDF has presented a good fight. That fight in many areas took UDF to victory. Sivankutty has lost 3,000 votes in Nemom. When BJP lost 15,000 votes, UDF got 22,000 additional votes.
"UDF was able to reclaim all the traditional votes which it lost to BJP last time. But it is true that the front has failed to unify the minority votes. THE SDPI's campaign that if Muraleedharan is voted, then Kummanam will win from Nemom proved to be detrimental or UDF and LDF got its benefit," he stated.
"It's not a good approach to further enhance the pain of the workers, by making undue statements at a time when the party has lost everything. The MLAs will decide who should become the opposition leader. The political affairs meet will take an appropriate decision on the organisational matters," Muraleedharan told the media persons.