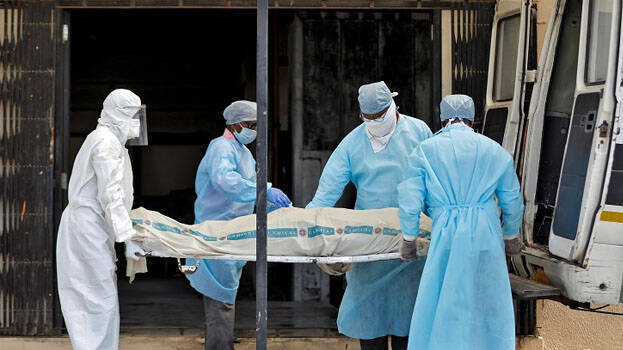 ​​​​NEW YORK: Coronavirus cases rise unabated across the globe with 155,813,366 infected by the deadly contagion. While 133,972,734 have recovered, 3,254,883 have died so far. The US remains the worst-hit country with 33,321,074, followed by India, Brazil, France and Turkey. However, in the past seven days, India has added the highest number of fresh cases at 2,669,597, followed by the Brazil (414,271) and US (346,224).

The US on Wednesday said the vaccine components it has supplied to India this week will enable the manufacturing of two crore doses of the Covishield vaccine even as the sixth shipment of American medical aid arrived as part of the Biden administration's assistance to the country's response to a rising number of COVID-19 cases. The United States also sent a separate shipment of over 81,000 vials of Remdesivir injections that was delivered in Mumbai.

A top scientific adviser to the Indian government warned on Wednesday the country would inevitably face further waves of the coronavirus pandemic, as almost 4,000 people died in the space of a day.

With hospitals scrabbling for beds and oxygen in response to a deadly second surge in infections, the World Health Organization said in a weekly report that India accounted for nearly half the coronavirus cases reported worldwide last week and a quarter of the deaths.

Many people have died in ambulances and car parks waiting for a bed or oxygen, while morgues and crematoriums struggle to deal with a seemingly unstoppable flow of bodies.

The government's principal scientific adviser, K. VijayRaghavan, warned that even after infection rates subside the country should be ready for a third wave.

"Phase 3 is inevitable, given the high levels of circulating virus," he told a news briefing. "But it is not clear on what timescale this phase 3 will occur... We should prepare for new waves."