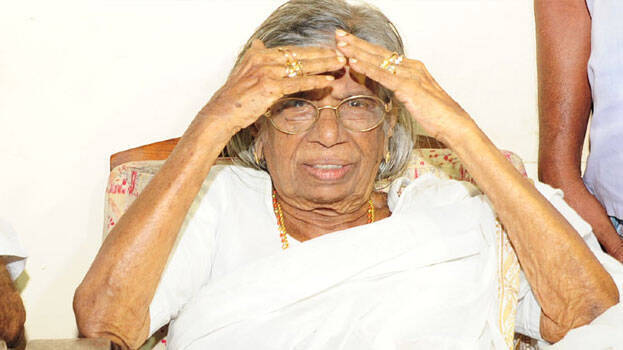 ​​​​​THIRUVANANTHAPURAM: CPM leader Kodiyeri Balakrishnan has said that with the demise of K R Gowri Amma, the red star of revolution has finally faded. "She is a visionary leader who went through great sacrifices to build the party in Kerala. The comrade who worked in CPM for decades, during the last years of her political life left the party and formed JSS, but later she came back to the LDF fold. Kerala's revolutionary political organisations had a great loss today with the demise of Gauri Amma. I am here by expressing my deep anguish and sorrow at the death of comrade Gowri Amma," Kodiyeri Balakrishnan said.
സഖാവ് കെ ആർ ഗൗരിയമ്മയുടെ വിയോഗത്തിലൂടെ വിപ്ലവത്തിൻ്റെ ശുക്ര നക്ഷത്രമാണ് അസ്തമിച്ചിരിക്കുന്നത്. കേരളത്തിൽ കമ്യൂണിസ്റ്റ്...

Posted by Kodiyeri Balakrishnan on Monday, 10 May 2021
Opposition leader Ramesh Chennithala said that K R Gowri Amma was always at the forefront of all struggles which led Kerala to modernity. "She lived for the poor. Even in the last days of her life she strongly took stands on various issues which she thought as right. Even when she was standing on the opposing front, she kept warm relations with everybody," Chennithala said.
CPI state secretary Kanam Rajendran said that she was numero uno among the communist leaders in the state. "She joined politics at a time when there were no women in politics but she got actively involved in the activities of communist party and subsequently rose in political ranks. In our lifetime, we have seen many leaders who have influenced our lives, but leaders like Gowri Amma are exceptions who created a firm foundation for the future growth of the society, and thus exerting influence in its every sphere," he said.
Senior Congress leader A K Antony said K R Gowri Amma always stood for the poor commoners and for the landless tenants in the state. "The poor in the state can never forget Gowri Amma and her concern was always with the struggling sections of people in the state," Antony said.
Speaker P Sreeramakrishnan said that with Gowri Amma's demise an era in history has come to an end. "She was a flower tree which blossomed near the fire altar of revolutions," he wrote in his condolence message.
AICC general secretary K C Venugopal said that with Gowri Amma's demise a chapter in Kerala's political history has come to an end. He also added that Gowri Amma's contributions to the state as a political leader and as an administrator are limitless.