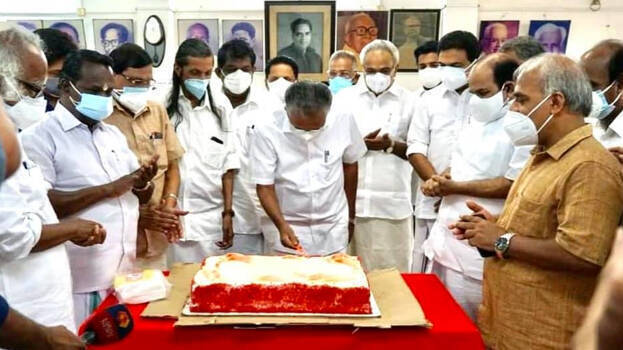 THIRUVANANTHAPURAM: With a consecutive second term, LDF has made another step towards oath-taking with resolving the most contentious issue in government formation—allocating portfolios to allied parties. With the conclusion of talks with allies over the sharing of ministerial chairs, LDF is gearing to enter its second term. The chief minister shared his joy with leaders of allied parties in the AKG centre after cutting a cake.
The talks in the AKG centre were over the distribution of ministerial posts among the allies. Now the respective parties will decide who will represent them in the ministry. A final decision on it will also be taken soon.
CPM which had 13 ministers last time, has now sacrificed one ministerial post for other allies. CPM will have only 12 ministers now. CPI will have four ministers and the deputy speaker's post. Kerala Congress will have one minister and the chief whip's post. JDS and NCP will have one minister each. The remaining two ministerial berths will be given to four small parties in the front on a rotation basis with each having 2.5 years.
CPM has forgone one ministerial seat to Kerala Congress which it had last time. Sources say that Kerala Congress which was adamant in its stand of having two ministers has to finally satisfy with the post of electricity minister. If that is the case, then Roshy Augustine will be the next electricity minister. Meanwhile, another senior leader in the party, MLA Jayarajan will be appointed as the chief whip.
CPI will receive the same portfolios held by it last time. The party from the beginning itself has made it clear that they won't share their ministerial posts with anyone else. Party secretary Kanam Rajendran was able to protect the party's interest on this issue.
This time also, smaller parties in the front will get portfolios like sports, ports, transport and irrigation. Meanwhile, parties with even one MLA will get ministerial berths, this will be done on a rotation basis with a term of 2.5 years.
The new government will be sworn in power on May 20th. Ahead of that, the Chief Minister will meet the governor on Wednesday and raise the claim to form the government. Due to the ongoing second wave of the pandemic, the guest's list for the oath-taking ceremony has been reduced compared to the draft list of guests.