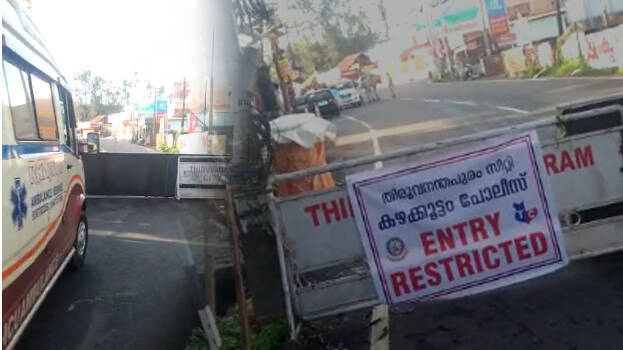 THIRUVANANTHAPURAM: The district which is under triple lockdown has come up with severe restrictions on public roads compelling the people to sit back at home. Police personnel have closed down all major roads and by-lanes in the district by Sunday late night. The restrictions imposed even on village roads inconvenienced people who went out on emergency needs. As strict police scrutiny was put in place in all major traffic points, it also led to a long line of vehicles in all major points in the district. Police had permitted people to go to nearby shops until 2 pm.
As banks were functioning on Monday, police allowed people to go to banks after checking the affidavits and other important bank-related documents. As it was known that the regulations are strict, by 11 am rush witnessed in the streets got reduced.
The housemaids didn't get any e passes, other essential service providers also suffered. Even though earlier police departments have said that e-pass will be issued for housemaids as it was not issued for many, its applicants got trapped. Not allowing people to pass through roads became another issue. Stopping ambulances that have patients who need emergency care and those who were going back after completing treatment were trapped in the middle of roads. Stopping patients who have come back after dialysis and pregnant ladies led to further verbal spat between police and people in many areas.
Health workers in various hospitals including medical colleges who worked in the covid care sector reached their hospitals after being delayed for hours. Closing down the roads with barricades after classifying each police station as a cluster was undertaken without issuing a due warning to the people which affected those with emergency needs and the people who work under the essential service category. Health workers and media professionals were tapped in the middle of the road as they were not given prior information on alternate routes of how to move from one panchayat to another.

Restrictions to reach the city
Police have closed down over 20 places in the city's borders. Police have provided six entry and exit points for those who are out with emergency needs. Vetturoad which comes under Kazhakootam police station limits, Maruthoor in Mannanthala, Peroorkada, Vazhayila, Poojapura-Kundamankadavu, Nemom-Pallichal, Chapath in Vizhinjam are the entry and exit points. Police said that people are cooperating with the restrictions.