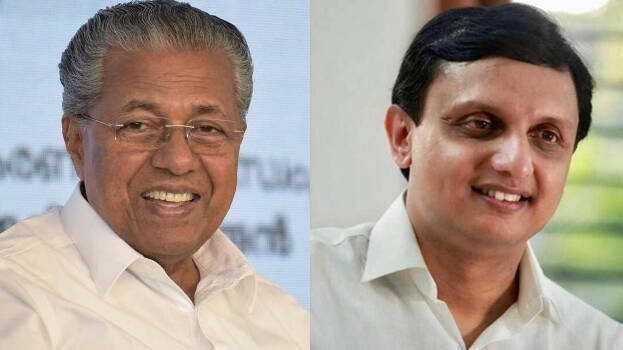 THIRUVANANTHAPURAM: The Kerala Legislative Assembly has a long history of children succeeding fathers and becoming members of the house. Many of those who have won have become ministers also. However, in the 21-member cabinet of the 15th Legislative Assembly, there is something special and interesting. The first specialty is that an uncle and son-in-law have won by a large majority and the interesting part is that the two will become ministers.
The uncle is Chief Minister Pinarayi Vijayan. His daughter Veena Vijayan's husband P A Mohammad Riyaz and DYFI All India President, is joining the cabinet this time. Riyaz married Veena on June 15 in 2020.
The CPM, the main party in the Left Front have a majority of new faces in the list of 12 designated ministers. Of these, only Pinarayi Vijayan and K Radhakrishnan, leading the cabinet, have previous experience in administration. K. Radhakrishnan was the Minister for Backward Classes in the third E K Nayanar cabinet in 1996-2001 when Pinarayi Vijayan was the power minister. He later became the Speaker of the 13th Legislative Assembly.
P A Mohammad Riyaz, a new face in the cabinet, has been given the party's DYFI representation. Riyaz reached the assembly this time from the historic Beypore in Kozhikode. Pinarayi Vijayan won from Dharmadam this time with a record majority of over 50,000, while in Beypore, Mohammad Riyaz defeated Congress Advocate P M Niyaz by 28,747 votes.
Riyaz was born in Kozhikode as the son of P M Abdul Khader, an IPS officer. The left politics came to his mind while studying in St. Joseph's School in Kozhikode. He was selected as the SFI unit secretary while studying in the eighth class. Later, while studying in college, he became a pre-degree representative of Farooq College. In 1995 became the unit secretary. He contested and won the University Union election while studying for degree. By this time, he had turned a prominent leader of the SFI.
Riyaz, who was soon active in the Left youth movement, became the main face of DYFI in Kozhikode. He had served as the district president and secretary of the organisation. He soon became a member of the state committee.
In the 2009 Lok Sabha elections, Riyaz was in the fray as the Left Front candidate from Kozhikode constituency as the youth representative of the party. It started with failure. After a tough battle with the Congress leader M K Raghavan, he lost by just 838 votes. Raghavan garnered 3,42,309 votes. Riyaz got 3,41,471 votes. This was his second stint in the elections. The people of Beypore voted for him and he got a good majority this time.
Riyaz was active in Left protests including the CAA agitation and Palestinian-Israeli conflict. The party decided to use his public experience in parliamentary politics due to the strong belief of his firm fighting spirit.