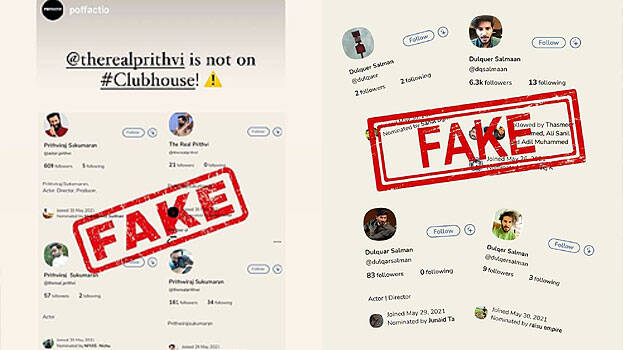 Prithviraj and Dulquer Salmaan, the young stars of Malayalam, have clarified that the accounts in their name on the social media app 'Clubhouse' are fake. The two said this through their social media handles by sharing screenshots of fake accounts.
Fake accounts have been created in the actor's name using Prithviraj's Instagram name 'therealprithvi'. One of the fake accounts shared by Dulquer has more than 6,000 followers.
Dulquer Salman has stated that these accounts are not his and that it is not cool to create fake accounts using his name and pictures. "So, I am not on Clubhouse. These accounts are not mine. Please don't impersonate me on social media. Not Cool !", Dulquer tweeted.
Prithviraj has made it clear through his Instagram story that he is not on 'Clubhouse'. 'Clubhouse' is an audio based social media discussion platform.
Only if invited, you can participate in discussions in chat rooms in this app. Launched in March 2020, the app is gaining huge popularity around the world today. Recently, it has become a sensation in Kerala as well. The app was developed by Paul Davison and Rohan Seth for Alpha Exploration.