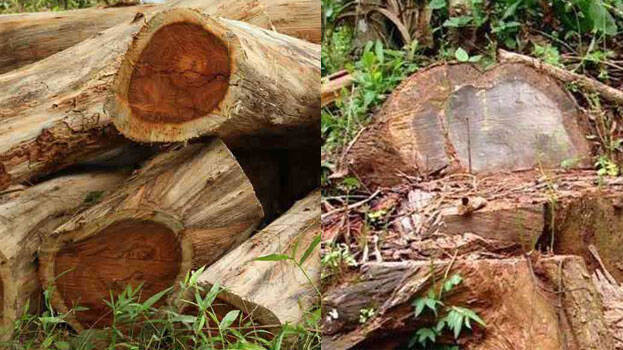 THIRUVANANTHAPURAM: The conspiracy that took place months ago behind the cover of demand of the Adivasi and farmers' organizations to allow the farmers in the forest to cut down the trees they have planted led to the looting of trees that shook the state.

The timber mafia has been active since the first Pinarayi government convened an all-party meeting to resolve complaints, including that of Adivasis. There was also the connivance of political and bureaucratic managers. The forest mafia managed to obtain a registered timber depot license just as the government was beginning to negotiate permission to cut down trees on land-assigned land. The Harmer Mark (Registration) was obtained under the 1972 Act, which allows depots to have ten cents of land and office facilities for a timber storage yard. All such licenses are under the influence of higher authorities. It is alleged that Roji, the accused in the Muttil case, obtained the Timber Depot license like this for five years.

Form 4 DFOs, which are authorized by the Forest Department to transport timber to and from the depot, were influenced. They got 50 Form 4 without even a single piece of wood reaching the depot. The matter came to light during an attempt to smuggle timber with it.
Mafia planning
Following the amendment of the Land Assignment Act, 1965 and the issuance of the first circular on March 3, 2020, the Mafia had extensively procured timber from the Adivasis in various districts at a low price. The village officers gave in to the influence and issued a certificate of possession without inspecting the site or checking whether the tenant had a scheduled tree for which they paid or not. With this certificate, the timber was procured from Range Offices and smuggled from Machad Range in Thrissur, Chinnakanal in Idukki, Cardamom Hill Reserve in Udumbanchola and Ranni in Pathanamthitta. However, the big conspiracy that clear the revenue land came to light after MK Sameer, the Range Officer who was transferred to Wayanad Meppadi Range, rejected the 14 applications received for Form 3.
It is clear that village officers, range officers, DFOs and political and administrative elites are involved in this. The government also suspects a conspiracy has been going on regarding tree felling for years.