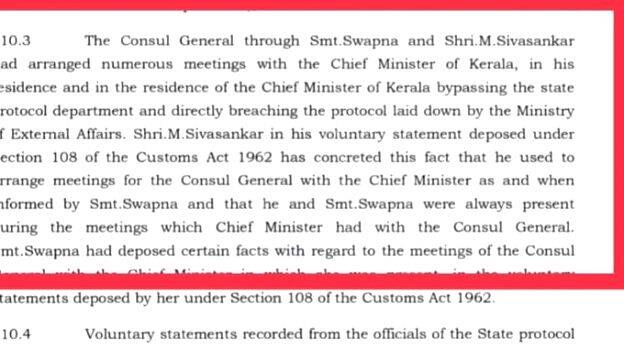 THIRUVANANTHAPURAM: The Customs probing the diplomatic gold smuggling case reiterated that the accused in the case had illicit relations with the then state ministers, high officials, and political leaders. It has issued show-cause notices to 53 people including prime accused Swapna Suresh, suspended IAS officer M Sivasankar and two former diplomats in the UAE consulate, Thiruvananthapuram.
According to the notice issued to the UAE Consul General in Thiruvananthapuram, who left the country following the case, the group, including the UAE Consul General, used their connection with the ministers to smuggle gold through the diplomatic channel. The Customs stated that former Consul General Jamal Hussain Al-Zaabi had met the Chief Minister several times by violating protocol.
The notice submitted by the Customs Preventive Commissioner in Kochi to the Ministry of External Affairs will be handed over to the UAE authorities after detailed inspections. The notice contains the statements of the accused M Sivasankar, Swapna Suresh, Sandeep Nair, and Sarith and the findings of the investigation.
The former Consul General and officials were careful to maintain good relations with the ministers. Ministers, senior officials, and political leaders were invited to the consulate and the Consul General's residence. The meetings went beyond the state protocol section and were against the rules of the Ministry of External Affairs. This should be seen as a blatant violation of national security, the Customs said.
The Consul General had met Chief Minister Pinarayi Vijayan several times with former principal secretary M Sivasankar and Swapna Suresh acting as intermediaries. These meetings took place at the CM's official residence as well as the Consul General's residence.
Sivasankar said that he was the official appointed by the government to contact the consulate. Sivasankar's direct contact with the Consul General was illegal.
The customs also voiced serious allegations against the state government. They said the government went out of the way and provided S-category security for the Consul General and also issued passes to four officials of the consulate.
The customs concluded that three types of smuggling had occurred.
The gold smuggling by Swapna, Sandeep, and Sarith by misusing diplomatic protection
Smuggling by the Consul General
Dollars were smuggled abroad