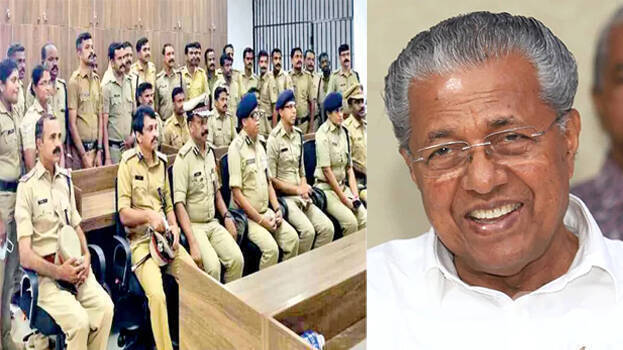 THIRUVANANTHAPURAM: Chief Minister Pinarayi Vijayan has justified the action of the policemen, including the DGP, who participated in the meeting without wearing masks and keeping social distance. According to the CM, the DGP and others were seen not wearing masks as they spoke at a distance without interacting with others there. The CM said during the press conference on Tuesday.
"Right now, I'm talking to you now without wearing a mask as I am alone here. I'm not coming in contact with anyone as I'm talking to you while sitting in my room at my house. Similarly, those who spoke there, including the DGP, spoke after maintaining a distance from others. That must have been the reason why they were seen not wearing masks. We've seen him and similar police officers constantly wearing masks," the CM said.
Earlier, pictures of the police officers watching the Chief Minister's online speech during the inauguration of the Guruvayur Temple Police Station had surfaced online. The police officers, including the DGP, were seen not using the masks and not maintaining social distance. Following this, the police officers received widespread criticism for not following the Covid guidelines.