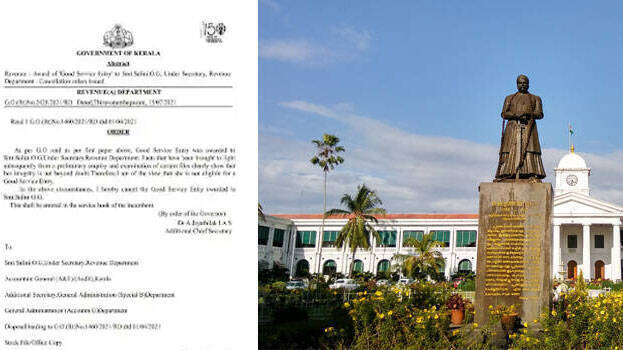 THIRUVANANTHAPURAM: The state government renewed the order revoking the good service entry of an officer who provided documents related to the tree-felling controversy under the Right to Information Act. The correction is that the action against the under-secretary was taken by the government after an examination. The previous order was that the revenue principal secretary examined and took action.
The government has come out with the corrected order amidst complaints seeking action against the revenue secretary. The good service entry of under-secretary O G Shalini, who gave the files of the controversial tree felling, under the Right to Information Act, was withdrawn the other day. An order issued by A Jaytilak, additional chief secretary, revenue department, said that the good service entry was withdrawn after an internal investigation found that Shalini's activities were not found to be satisfactory.
She was given good service entry in April last year praising her work in the distribution of title deeds. Shalini had gone on leave as per the instructions of top officials after giving reply under the RTI in the controversial Muttil tree felling case.
Four people including the joint secretary who handled the file were transferred from the revenue department following the revelation of documents showing that former revenue minister E Chandrasekharan gave directions for the controversial order related to tree-felling.