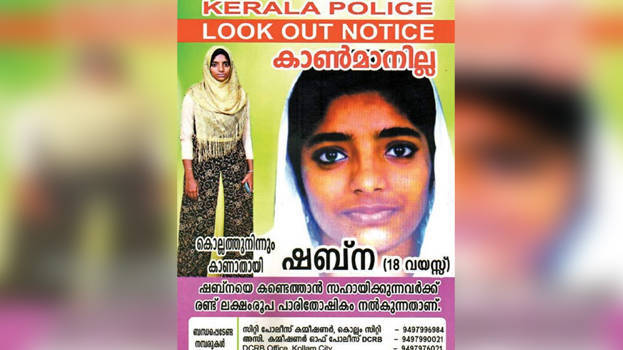 KOLLAM: Police have issued a lookout notice with a reward of Rs 2 lakh for those helping them find Shabna (18), who had gone missing from Anchalumoodu recently. The incident appears similar to Jasna case.
Shabna's mother Rajeela had announced a reward of Rs 50,000 in association with Action Council. The attempt is to distribute notice to all important places.
From her house, Shabeena had gone to Kadavoor for PSC coaching in the morning on July 17. At around 11, police recovered her certificate, bag and other documents from Kollam beach. Police had got the information that she had been in love with a youth, her relative and she had talked to him over phone just before she went missing. Though police questioned him several times, they couldn't get any lead from him.
As per the direction of the court, though the youth was taken for lie detector test in Bangalore, it didn't happen.
In between, police had conducted search in Parassala and Kozhikode based on a tip off but they couldn't find her.
Those who have any information about her should contact
City police commissioner: 9497996984 or DCRB office: 9497976021.