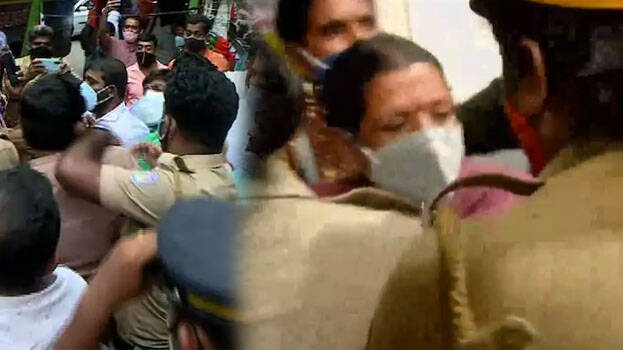 KOCHI: Amid the Onam gift controversy at Thrikkakara municipality, the opposition protested against the chairperson Ajitha Thankappan who came to the sealed corporation office following the vigilance order. Ajitha opened the sealed office with her own key and entered. Then the files in the office were checked.
Police arrived at the scene and brought the chairperson out during the clash. Meanwhile, the opposition accused UDF councilors of attacking people, including women. Police used force to expel the protesters.
The cause for row in Thrikkakara municipality over the chairperson's gift of Rs 10,000 along with Onakodi. Some councilors complained to Vigilance after returning the money. Ajitha Thankappan then left after locking the room without opening it for the vigilance team who came to check the CCTV in the office. Subsequently, the Municipal Secretary sealed the office on vigilance order. However, Ajitha Thankappan entered the office today saying that the secretary has no authority over this and the position of the secretary is below her.