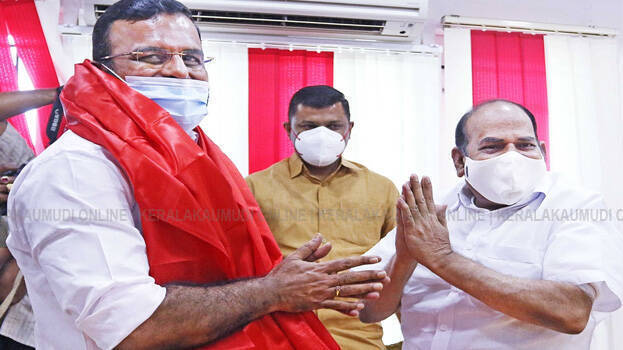 THIRUVANANTHAPURAM: Another prominent Congress leader also joined the CPM camp related to the appointment controversy of DDC office bearers. Former KPCC general secretary KP Anil Kumar left the party and joined the CPM. He ended his forty-three-year relationship with the Congress. Kodiyeri Balakrishnan welcomed him to the party with a red shawl when he reached AKG Centre. P S Prashanth, who had left the Congress earlier and joined the CPM accompanied Anil Kumar. Anil Kumar had stated that he has joined the CPM without any pre-conditions. He showered criticisms on KPCC chief K Sudhakaran while announcing his resignation from the party.
Had stated that no one would leave the party after the new leadership came. However, a landslide happened in the congress now. Anil Kumar, who had the keys of the KPCC office, leaving the party is a sign of that. Everyone will get due representation they deserve in the CPM, Kodiyeri said while inviting Anil Kumar.
P S Prashanth, former KPCC secretary and Nedumangad UDF candidate expelled from the congress for making open allegations against current DCC president Palode Ravi, had earlier joined the CPM.